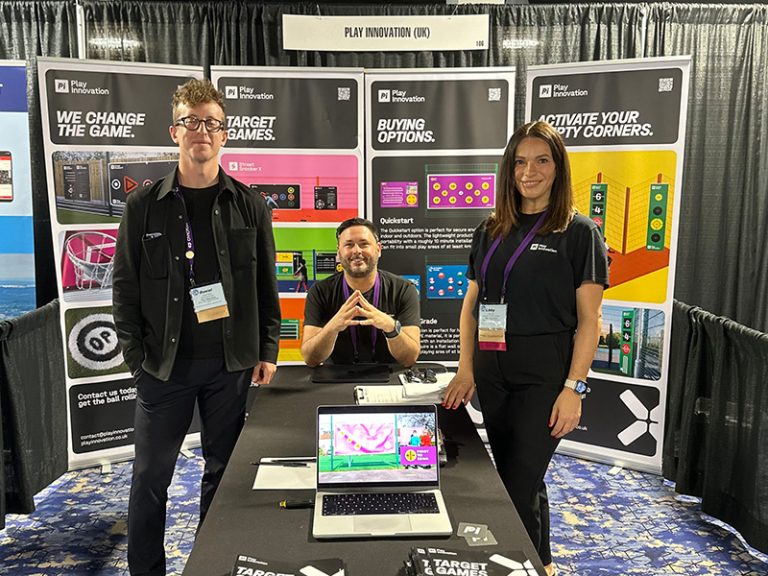 Play Innovation lands in the US with visit to 2023 IIMC Annual Conference
With a product patent for the US and Europe in place since 2010 – and having received a number of enquiries – Play Innovation finally touched down on American soil this May. The company received an invite from Chris Shelby, CEO of the IIMC (International Institute of Municipal Clerks) to take a booth at the organisation's annual conference at the Hyatt Hotel and conference centre in Minneapolis.
The four-day IIMC Annual Conference is renowned for offering those working in local authority roles with practical and theoretical solutions to solve topical issues, such as tackling physical inactivity and anti-social behaviour in their communities.
At the event, Play Innovation had the opportunity to introduce its unique range of products – designed to bring communities together and generate a positive impact on lives by engaging people in play and physical activity – to visitors. Play Innovation focused on showing its patented target games and explained to potential customers how they are designed to tackle inactivity in children, young people and adults and can be attached to almost any rigid fence or wall.
The Play Innovation stand generated a huge amount of interest among delegates, as the company's message resonated with the event's theme of finding innovative ways to improve lives.
"What a journey we've had – in more ways than one," says Marco Boi, Play Innovation founder.
"We planned to explore the US market a few years ago but then the pandemic scuppered our plans, so we were delighted to take this first step. The response was unbelievable. A unanimous thumbs up from almost every state and now we are actively thinking about a joint venture with a stateside partner to fully maximise the opportunity.
"Our message really connected with the audience at IIMC, as they were receptive to finding and listening to new ideas and solutions.
"We can't wait to see where this latest stage of the journey takes us!"
Fun Fact: As the event's only overseas exhibitor, Play Innovation team shared the floor with some powerful players – such as Homeland Security and Dominion Voting. The latter was recently made famous by being the target of false accusations by Fox News over the 2021 US Presidential Election results and ending up winning US$787m in an out-of-court settlement!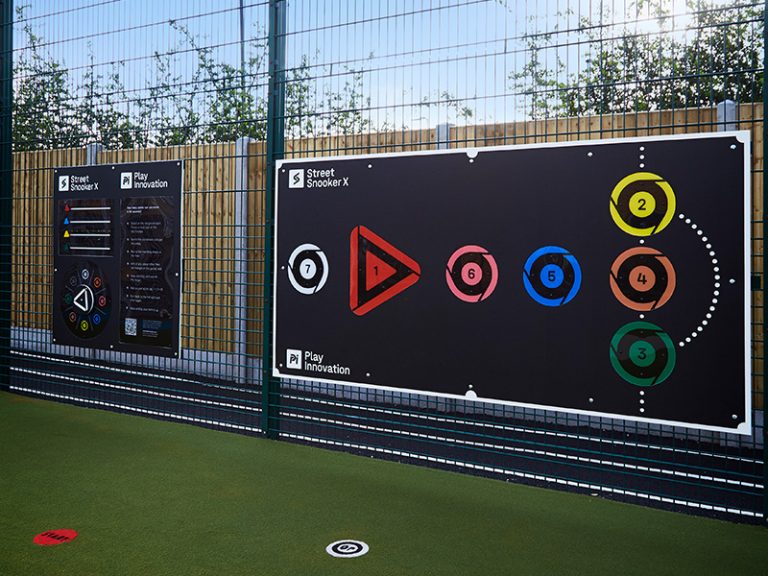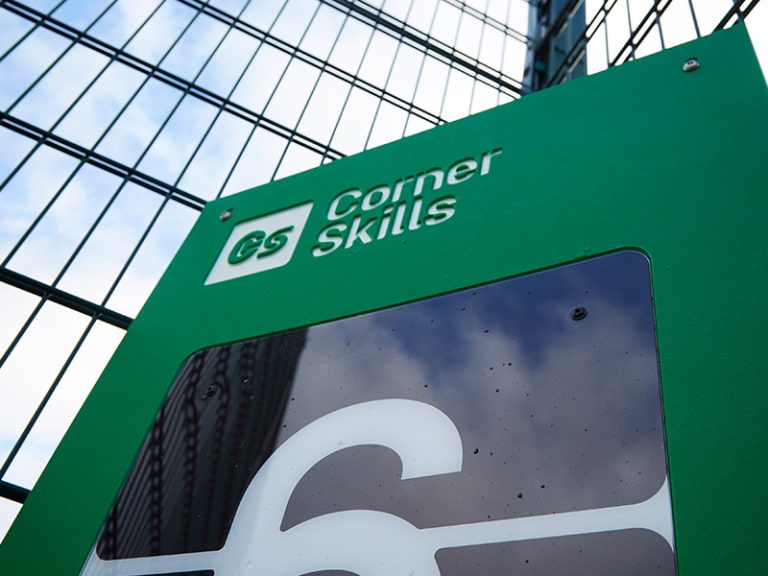 Play Innovation helps L&Q deliver £1m transformation of playgrounds and active spaces
Play Innovation, a global leader in tackling inactivity in children, young people and adults with their interactive yet non-electronic target games and play equipment, is helping housing association L&Q transform a number of underused playground areas into modern and safe spaces for everyone to enjoy.
L&Q has invested £1m specifically for the improvements of seven community playgrounds in London and Essex. Working together, Play Innovation and property services provider, Axis Europe, have redesigned and rejuvenated derelict and unused areas into inclusive, safe and friendly spaces for L&Q's residents and local communities to enjoy and be proud of.
Among the projects were the Pocket Park play area and the Silwood Street Ball Court Zone in South East London – both if which have been reconstructed and brought back to life.
The investment in the parks include the installation of Play Innovation's Hype multi-sports goals with colourful sensory basketball backboards, inclusive play and sport target games Street Snooker X and Crossbar King, a new outdoor gym by TGOGC and personal training zone for use by local PT's and cross fit fans.
The new facilities are designed to tackle inactivity and inequality and to inspire people to become physically active in a fun, engaging way, as part of L&Q's commitment to creating thriving neighbourhoods and sustainable communities.
According to Marco Boi, founder of Play Innovation and lead designer/consultant for the programme, L&Q's mission aligns perfectly with the Play Innovation's ethos of tackling inactivity and delivering impactful social value through the creation of engaging, active spaces.
Boi said: "As a father of two teenage daughters I know the importance of creating safe spaces for them to enjoy and be active.
"A well thought-out space should entertain and involve anyone regardless of age, ability or background. We're excited to see the finishing touches being added and to officially launch these projects for L&Q."
"I really enjoyed Street Snooker because there was an element of competition, but we still helped each other and it was really fun. It's also against the clock, so that made it more fun. I also liked Brazilian football because I learnt some new skills and ball control. Overall it was a really fun lesson, thank you!"
London Sport and Play Innovation working together to get people active
Play Innovation and London Sport have signed a two-year partnership deal which will see the organisations working together to create spaces to help young Londoners and their families enjoy being active – and build positive physical activity habits for life.
One of these projects includes the distribution of £5.7m of investment over the next three years to help schools open up their facilities outside of school hours. Play Innovation will be providing special and exclusive offers and support to schools to help them transform their active spaces with innovative and engaging play equipment so more young Londoners can easily engage with exercise in a fun and interactive environment.
As part of the two-year partnership, Play Innovation was also an Official Partner and sponsor of the Supporting Young Londoners category at this year's London Sport Awards which brought together community sports clubs, activity providers, volunteers and businesses to celebrate the unsung heroes who are improving the lives of Londoners through sport and physical activity. 
All 10 category winners of the Awards will receive an interactive gaming product from Play Innovation, including products like their Street Snooker or Goal Master worth up to £1,600.
Marco Boi, founder of Play Innovation, said: "We believe in the transformative power of sport and physical activity, which is why we're so excited to work with London Sport to bring our ideas and products to communities who need them most.
" Bringing together our collective expertise and innovation, this partnership will no doubt benefit the wider sector and help us deliver a more active future for thousands of young Londoners."
Tanya Rabin, London Sport's Director of Commercial, Marketing and Communications, added:
"We are delighted to be partnering with Play Innovation and collaborate with them to help more young Londoners enjoy being active and create positive physical activity habits for life. Physical inactivity is responsible for one in six premature deaths, and over half of young Londoners are not doing the recommended levels of exercise.
"Play Innovation shares our ambition to make a real impact in communities and improve the health and wellbeing of young people through sport and play. As a leader in transforming recreational spaces and creating innovative playground game concepts, we're looking forward to working together to excite, engage and ultimately help more young Londoners live healthier more active lives."
Nike Intersport – Future of Play
Intersport asked creative agency HarrimanSteel to help it further grow its successful Play Your Way campaign. Play Innovation was brought on board as the leading play consultant to conceptualise, co-design and build an entirely new product for the campaign.
The result was the creation of a multi activity "Cube", set within a playful, visually-striking 170m2 installation which turned the traditional idea of what a sports arena should look like on its head. Around the Cube, 'loose' equipment was added to inspire children and young people to find new ways to play and to introduce them to the Nike (Kids) brand.
The arena ended up going to five cities in three different countries in just three weeks.
Marco Boi, Play Innovation founder, said: "We came up with the Cube idea based on previous ideas and concepts we had been toying with – and Nike loved it.
"We knew that, in order to make a memorable experience, we needed to make it fun, visually striking, and agile enough to load into a truck for touring across three countries/five cities in three weeks.
"To see the final product was amazing and to receive such amazing feedback from children – across three countries – was the icing on the cake."
"Our new family-inclusive sports area is constantly packed. Not only with kids, but also mums and dads joining in on activities. We are already taking bookings from local football teams for use of the area and the feedback has been astounding!"
Kings Walden
Parish Council