Captivate Your Community.
Bring on the community spirit.
Communities need engaging focal points to come together, giving people opportunities to meet neighbours and old friends, and create new ones. Our innovative playgrounds, ballcourts and MUGAsare literally weaving new fabric into communities – transforming them through unique design and personalised features to create valuable impact. So much so in fact, that we have been shortlisted by London Sport for the Community Impact of the Year Award 2023. We are considered innovative outdoor recreation consultants, but we are proud to be community builders.
Maximise space in your existing MUGA or ball court by adding one or more of Play Innovation's Corner Skills target games.
The revolutionary new Corner Skills range has been designed to utilise available space, such as corners and other "dead spaces", within play areas and ballcourts.
The engaging games – ranging from noughts and crosses to cricket and target games – have been created in collaboration with sports coaches and young people themselves. Corner Skills will inspire children to be physically active and also encourage them to use their imagination to create their own versions of how to play the games. Find out more here.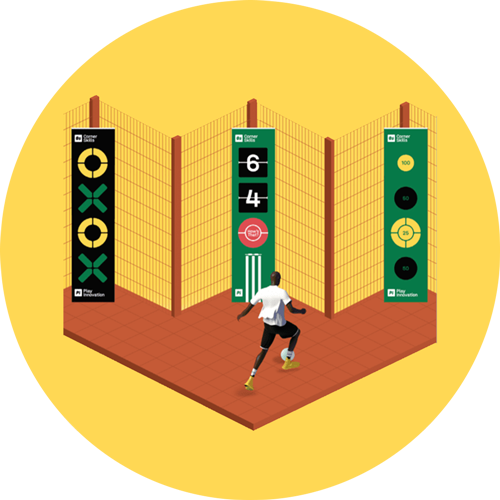 A Game For Every Court.
A Court For Every Game.
Playgrounds, ballcourts, MUGAs. Interactive games. Astonishing results.
Maybe you're looking for an upgrade on your existing play area or sports facility? Maybe you want a brand new project built from the ground up? Maybe you want interactive concept games to inspire generations for generations? Our bespoke designs brighten social spaces and wow communities!
Play Innovation offers a full tennis court design and build service. Our ground up approach includes surfacing, floodlighting and installation.
Our in-house team is meticulous in ensuring that the highest standards in installation are upheld – as proud members of SAPCA (Sports & Play Construction Association) you can rest assured that our work is quality-assured.
Never Underestimate
The Power Of Play.
When it comes to our games, discover unexpected results.
Our games concepts are carefully designed with Olympians to be accessible, inclusive and to deliver positive benefits for all. They are geared to provide 11 developmental outcomes to help children grow – and adults benefit too. Team GB Handball stars, Bobby White and Mark Hawkins, form a key part of our coaching and development team, accompanied by carefully selected PE instructors to ensure everyone wins.
Government and local authorities
Destinations
Physical fitness
Safety
Digital aspects
Security
Innovation
Parents
Cognitive development
Sensory awareness
Spatial awareness
Imagination
Unstructured play
Challenge Vs. risk
Children
Cool design
Engaging activities
Physical & technological
Adventure
Togetherness
Fun!
The rules of the playground have changed.
Whether you're looking for design and build or an entire turnkey solution, we think smarter and work equally so, meaning you have the peace of mind to know that you can rest easy in the knowledge that your play solution is in safe hands.
How we do it…
1. Site visit 2. Feasibility study 3. Concept submission 4. Site Plan 5. Final Proposal 6. Approval process 7. Manufacturing 8. Installation 9. Maintenance 1. Site visit 2. Feasibility study 3. Concept submission 4. Site Plan 5. Final Proposal 6. Approval process 7. Manufacturing 8. Installation 9. Maintenance 1. Site visit 2. Feasibility study 3. Concept submission 4. Site Plan 5. Final Proposal 6. Approval process 7. Manufacturing 8. Installation 9. Maintenance
Next-gen expectations, demand next-gen solutions.
Kids have always been a tough audience.But to reach today's young people, with their expectations elevated by a digital age, necessitates next-level engagement. This is why our play areas, active spaces and games are tomorrow-ready. Our future-focused solutions are based on patented products, passionate people and productive partnerships. We work with local communities to discover what will make a relevant difference before delivering a solution to your specification, your budget and your timescale. Let the new games begin…
X doesn't just mark the spot, it hits it.
If something isn't broken, then why fix it? Well, because we're innovation by name and by nature we never stand still. We're always looking to improve and that applies to our games too. Our new X-Range of games takes our tried and trusted innovations and transforms themto ensure the audiences of tomorrow will be as delighted as those that grew up enjoying them.
Letting others do the talking…
Transforming communities through innovative MUGAs gives us enormous satisfaction, but it means more through the satisfaction it gives others. We're always delighted when local authorities are thrilled with our work, but the acid test for us is ultimately judged through the smiles on children's faces and their exclamations of excitement when enjoying the results of our hard work.
"Over the course of more than 10 years, Dacorum Borough Council has contracted Play Innovation to design and build several playgrounds and sports courts, including our Green Flag Award-winning play area at Gadebridge Park. Whoever is reading this, you are in safe hands!"
Joe Guiton
Team Leader for Community, Safety and Children's Services Dacorum Borough Council
"This is a great example of families being able to exercise and get healthy together. What was a derelict area of tarmac, has had this spectacular makeover and is now going to be great for people of all for generations to come."
Vivienna Lukey
Councillor, London Borough of Hammersmith and Fulham
"When it comes to designing and installing a sports recreation or multi use games area for your town or parish, you will want to zoom straight to a partner like Play Innovation. The company is already trusted within the sector and gets a buzz not only out of innovation, but also by engaging in communities."
Linda Roberts
Calne Town Clark
"I love all of the Play Innovation games. They help me with my football skills and also maths. I keep coming back to try and beat my top score of 40 at Street Snooker."
Liam Dulson
Pupil
"I am getting better at my mental maths because I have played Street Snooker a lot at break time. I can add up my score really quickly now."
Silvia
Pupil
Want to give your space a fresh face?
Book a site visit and let innovation come to you.